In this digital age, video conferencing has become a part of our daily lives. We no longer converge inside offices like we used to for those long board room meetings. Sometimes it's not even the COVID-19 pandemic. Instead, it's about the convenience.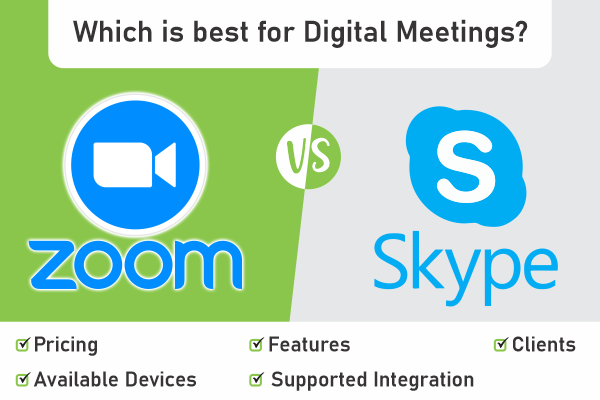 Zoom and Skype are two very popular video conferencing tools. Sometimes, we become confused about which to pick for our digital meetings. But worry not because we have done all of the heavy-lifting for you. With our in-depth research, we have compiled a detailed description of the two software to show which one deserves a better standing ovation.
But did you even know that video conferencing, by 2024, is projected to be worth over $20 million. In case this didn't cross your mind, then you better be prepared to use video conferencing if you haven't yet started. It's convenient, safe, and effective for holding meetings.
In case you think that it isn't yet time for video conferencing, a whopping 89% of remote teams believe that video conferencing is better to connect with colleagues. In fact, just over 70% of the employees in the US use video conferencing to collaborate remotely.
But if you're to use a video conferencing tool to boost productivity and create a better work-life balance, which software would you choose between Zoom and Skype?
Skype
Skype is an instant messaging platform that you can leverage to share files, your screen, as well as audio and video calls. Since it has a wide user base, there are a lot of employees already on skype – including yours.
Zoom
Zoom is a cloud-based innovative technology that has modern conferencing tools. It has breakout sessions to split your viewers for specific roles. Also, the organizer can fully take control of the meeting. This includes muting all microphones, and controlling other access mechanisms.
With Zoom, the attendees can also contribute to the digital meeting by virtually raising their hands.
Zoom Vs. Skype Comparison
It's pretty challenging when you have the task to compare two greats. Both Skype and Zoom are pretty decent video conferencing tools. Nonetheless, we will use a few features and characteristics to compare the two.
Supported Integrations
Skype
Skype integrates with systems such as Microsoft, Lucid meetings, WordPress, SalesExec, Mendix, Bitium, OnePage CRM, Grasshopper, Cayzu Helpdesk, BigContacts, Interactive Intelligence CaaS, GroupWise, Slack, and 1CRM.
Zoom
Zoom equally integrates with a wide range of systems such as Box, Microsoft One Drive, Salesforce, Slack, Google Chrome, Microsoft Outlook, Okta, LTI, Facebook Centrify, Intel Unite, Kubi, Zapier, Marketo, and RSA.
Available Devices
Skype is a web-based platform that supports all Android phones, Windows, iPhones, Macs, and iPads. Zoom, on the other hand, supports web platforms, iPad, Macs, iPhone, and Android.
Features
Zoom has tons of features including integrated scheduling, video webinars, and group collaborations. You can also enjoy premium audio, cloud and local recording, and Zoom Rooms.
As for Skype, you can make Skype-to-Skype calls, call forwards, group calls, video messaging, and one-to-one video calls. This means that you can easily send video messages, share files and contacts, and even share your screen.
Ideal For
Both of these programs are ideal for small businesses and large enterprises. However, Skype's free plan is quite popular, especially among freelancers.
Clients
Skype and Zoom have premium video conferencing solutions. This is perhaps the reason for their numerous clients globally. Zoom has notable clients such as UBER, Zendesk, and the University of Washington.
Skype equally has some big names including AIRDEX, Diverse Learners, and VerbalizeIt.
Pricing
Pricing is an integral factor to consider when you're searching for almost anything on the planet. More so when you're comparing two close-cut competitors like in this case, it is normally a good tie breaker.
Skype
One good thing about Skype is that it's free. Nonetheless, for corporates looking to boost revenue and improve productivity, Skype has an enterprise pricing package, which is $2 per month for every user.
With their business plan, users get to enjoy online meetings of up to 250 participants. You also get to enjoy secure communication and encryption.
Skype also has an online plan 2 that costs $5.50 for every user per month. It is best for business online meetings. The standout features here include 1 TB file storage and 50 GB mailbox.
In addition, Skype has the office 365 business premium plan for $12.50 per month. Some of its best features include tablet and phone office apps, and pre-installed office apps on Mac and PC.
Zoom
Zoom has several enterprise pricing packages that you can take advantage of. The Zoom basic plan is the first one, which is basically built for personal meetings. It's free and can host up to 100 people at a go.
Then comes the Zoom pro plan, which costs $14.99 per month for every user. It's great for small teams and can support up to 100 users. With this plan, you can get unlimited meeting duration, assigned custom personal meeting ID and meeting reporting.
The pro plan equally has admin controls, REST API, and Skype for business. You get 1 GB of MP4 and M4A cloud recording to store and share huge amounts of data.
Next we have the Zoom business plan. This goes for $19.99 per month for every individual. It is particularly great for smaller companies. Mid-sized businesses can leverage this plan to take their communication to the next level.
With the Zoom business plan, you can host 10 hosts, get phone support, an admin dashboard, and a vanity URL. Other features include a single sign-on and managed domains. There are also custom emails and company branding. Lastly, you get LTI integration.
The Zoom enterprise plan goes for $19.99 per month for every person. This plan allows up to 200 participants for every meeting. You also get an unlimited cloud storage and a customer success manager. What's more, you can get executive business reviews.
The enterprise plan is particularly great for larger companies that have varied conferencing needs.
Final Thoughts
As you've seen, there's a huge war between Skype and Zoom. But nonetheless, in any battle there has to be a winner. And in this one, Zoom takes a slight edge over Skype. We encourage you to embrace video conferencing. And we are here to help you achieve this whenever you're ready.