AV systems for sports are not just nice to have. They provide a high dollar ROI. It's clearly understood that good quality video translates into revenue for advertising and branding. It's somewhat less understood how important audio systems are to clearly communicate with fans and to provide energy that directly translates into excitement and engagement. Acoustics in these facilities often make this an additional challenge for audio system design.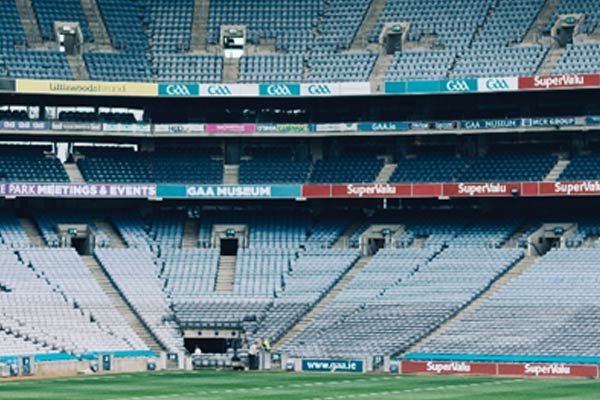 There may be no other type of AV system more reliant on good design and engineering than large scale audio and video system. The list and quality of equipment is completely secondary to the design. We have seen NFL stadiums with enormous dollar values of equipment installed, configured, and programmed in ways that produce completely unacceptable results. Ditto for many college arenas.
Obliviously, budget for your project depends on the exact functionality of the room, but over the years, we've collected a lot of historical data. At the beginning of every project, we sit down with stakeholders, ask questions and listen intently. Amazingly, this is so rare, that we've developed a saying, "Real audio experts listen first".
Download our budget range data
There are three different ways to approach your project. We can provide any one of the four methods below to meet your needs.
Consultant led bid process
In this method, we act as a pure design consultant. We will provide a bid specification and construction documents. We will not bid on the project, so we can assist the owner with bid selection process. After the contract is awarded, we can provide Construction Administration, Programming, and Final Commissioning. This is typical for government work and projects over $1M. Our fee for this service is typically 5-10% of AV project budget.
Design / Build (D/B) process
In this method, we provide a turnkey solution. Initially we provide a cost for design services at a reduced fee. Bid process requires a large number of contract documents to protect the owner from sub-par firms. This is avoided in D/B process. We can also move significantly faster. Lack of competition is a concern, so we provide extremely transparent cost breakdowns. This method is well suited to small and medium projects, especially fast-track.
Hybrid consultant process
In this method, we provide full contract documents, but participate in the bid. This can be a good compromise between traditional bid and design / build. We sometimes start with design / build and then bid the project if there is concern over the cost. In this case, we just increase our design fee to cover the additional expense. This is important, because the most dangerous route for an owner or contractor is to simply issue an equipment list for bid.
This is the most rapidly growing form of project delivery . In this method, we deliver a true turnkey solution of equipment, installation, training, support, and maintenance at a fixed monthly cost. Capital outlay is reduced or eliminated and we take all responsibility for system monitoring and maintenance. After a fixed period (typically 5 years), we provide an option to update the equipment at no cost so technology stays up to date.
Still confused about which delivery method is right for you? Download our guide to learn which method is best for your particular project
First time buyers of AV Installation services tend to focus far too much on total cost vs equipment lists and end up with massive headaches on their project. AV as a box of parts is useless. These savings are quickly eaten up by schedule delays, change orders, and coordination issues. If you're dealing with an AV Integrator that only wants to talk about an equipment list, it's time to run for the hills.
Here is a list of the most common issues in AV. These derail projects and cause users to get frustrated. Click on any one of these to see how we address them as part of our VIBE Design Process
Our 6 Step Process delivers SOLUTIONS instead of gadgets. Each step builds on the next. Our Process is what sets us apart and thrills our clients. Click any stage to learn more.
Our 6 Step Process delivers SOLUTIONS instead of gadgets. Each step builds on the next. Our Process is what sets us apart and thrills our clients. Click any stage to learn more.
Access our 120 Manufacturers
Access our 120 Manufacturers
Clients rely on our experience
"The VIBE team has helped us define and document our AV standards across our entire campus, creating the ability clearly communicate requirements to our design, construction, installation teams, and internal stakeholders. It's great to have a partner with deep and diverse engineering experience to help us save time and solve problems."

Jason Webster

Florida International University

"I have always found VIBE's knowledge of Audio/Video Systems exceptional. Your background in music and low voltage engineering easily complimented the 20+ projects we have successfully worked on together."

Edward Dugger

Edward Dugger + Associates

"Having Vibe Design as a trusted partner has allowed us to expand our offerings to our customers while trusting that they will deliver the quality product our customers have come to expect.  Vibe has always been conscious of our mission, and acted with our best interest in mind. We look forward to many more successful implementations in the years to come."

Ildefonso Balart

Connect C3
Need an expert? Lets Talk
Certification and Associations
We hold over 30 industry certifications