People often assume that the equipment you use to video chat your sweet grandma at home is the same for video conferencing. This is quite far from the reality. You need more than a phone or a fancy tablet to make it through a successful video conference.
Well, unless you want to organize a joke for a video conference, you need to be sure of the equipment you're using. Things like cameras, microphones, and TVs should be part of the stuff you have ready for the video conferencing experience. We at VIBE Design Group know the importance of videos. Here's why they are very important.
The type of video conferencing equipment that you'll need depends on the size of your room. How big is your conference room? We will share with you different recommendations based on this concept of room size.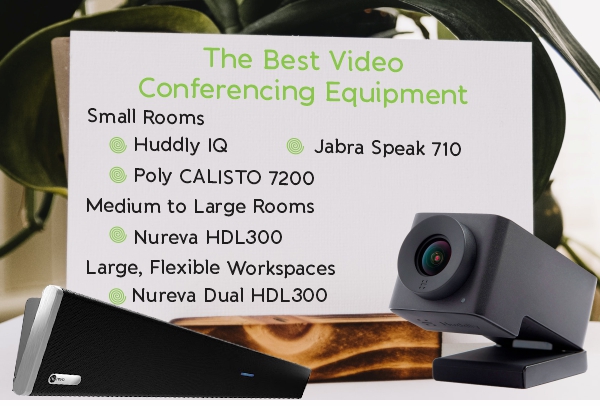 Small Rooms
This is basically a room that can host anywhere between 5 to 7 people. It's the type of room appropriate for one-on-one meetings. For this case, you really don't need to invest in high-tech and expensive videoconferencing equipment. You can just utilize a simple camera with basic display speakers.
Inconsistent audio quality is not something that you'll have to struggle with here due to the small population. For such a room, a wide-view camera is all that you need. You may also want to use a microphone that can enhance sound and pick up voices clearly.
It would be best to consider Huddly IQ as your preferred camera here. It is a potent AI videoconferencing camera that can give you a video meeting experience like you've never had before.
On the other hand, the Jabra Speak 710 gives you a high definition audio quality. Besides, its omnidirectional microphone can pick up voices from every angle in the room. Another recommendation is the Poly CALISTO 7200. Aside from being cost-effective, it includes four directional microphones that help to capture participants
Medium to Large Rooms
These are rooms that can host about 7 to 17 people. When you have such a large number of people, it's not feasible to use simple microphones and speakers that are mounted on a monitor in the room, or on the wall.
When people are more than 6, it means that they'll be spread out in the room. This is even more so now when there's a worldwide pandemic forcing social distancing measures. It can be difficult for a simple camera or microphone to pick up people's voices in such a room.
The Crestron Mercury videoconferencing tool is top on our list of recommendations for a medium to large room. Another one that we deem fit for the job is the Nureva HDL300. It has a spectacular microphone that's convenient for such groups.
Large, Flexible Workspaces
Typically, these are workspaces that can host over 15 people. Technical inefficiencies in this case will be distractive to the agenda of the meeting. Therefore, you need proper equipment in your arsenal. You have to go big or go home – literally.
Some of the additions that you'll have to make to the room include multiple ceiling microphones and speakers that can pick up and relay voices clearly. Here, Nureva Dual HDL300 can do the job effectively for you.
How Many Rooms Do You Have?
We have fully discussed about size. Now we want to touch on the quantity. When you have 10 conference rooms, we bet you wouldn't want to have all of them using different technology setups.
When you decide to probably add modern equipment in one of the conference rooms while the others have outdated technology, you're technically shooting yourself on foot. You'll have half of your employees having very effective and productive meetings, while the rest are experiencing difficulties. The end loser is you.
Determine the appropriate videoconferencing equipment for all of your rooms by talking to an expert like VIBE Design Group. This will help you avoid delays and inconsistencies during different meetings in your organization. Remember that time matters a lot, especially when you're dealing with business stuff – don't waste it.
Find Equipment Brands That You Can Trust
Well, if you can't trust a certain brand, then you better not work with them to actualize your videoconferencing journey. With so many videoconferencing equipment brands in the market, it can be quite difficult to find one that suits your needs. It can be equivalent to looking for a needle in a haystack.
To be sure of everything, it would be best that you find equipment brands that you can trust. And we can help you do this effectively. When searching for a videoconferencing brand to use, you first need to consider their support. How responsive are they to questions and concerns that you have?
Take the example of a meeting you plan to have on a Monday morning. Suddenly, one of the speakers fails to work effectively just one day before you have the meeting. You try to contact the service provider to no avail. Now you're stuck wondering how the meeting will go now that you don't have proper equipment. Do you then see the need to have someone reliable behind your back?
You need to choose a brand that's ready to help and respond to your needs even at the most urgent of times. This way, you can be certain that in case of any difficulties, you have a soft landing.
We have worked with several brands that we trust. Therefore, we are better placed to give you good insight about the right choice to make. Talk to us at VIBE Design Group and we will help you make all this a reality.
Final Thoughts
Now that you have a clue about getting the right videoconferencing equipment, we are here to help you actualize your goals. We would encourage you to explore and read product reviews both on our website, and other trusted sites online. Make an informed decision when you're installing videoconferencing equipment. Nonetheless, we are always a phone call away to answer any of your concerns.