High-quality meetings are now possible thanks to the advancement of the video conferencing technology. Virtual meetings and presentations were initially hard due to the limitation of video conferencing tools.
Fast forward to date, there are tons of video conferencing tools to use. But which one should you choose? Or should you just pick any that you find on the way?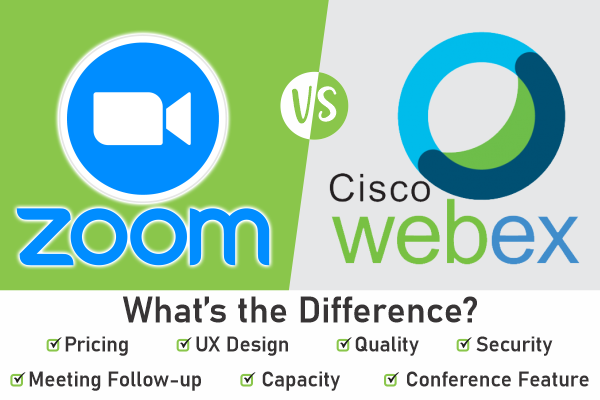 Well, this review brings us closer to Zoom and Webex – both high-standard video conferencing tools. We want to focus on the strengths and weaknesses of both video conferencing tools, so that you can make a choice of which to use.
One thing for sure is that either Zoom or Webex can be great for you if you want to leverage the potential of video conferencing. Here is a detailed comparison between the two, which will make it easier for you to choose the better tool:
Zoom
Zoom is one of the most popular video conferencing tools that you'd find. Some of the potent services it provides include Zoom rooms, online meetings, video webinar and group messaging.
The best part about Zoom is that you can get it for free. The interface is also user-friendly and easy to understand.
Webex
CISCO's Webex is yet another popular video conferencing tool. With it, you can organize video conferences, webinars, and even online events. Having been around for several decades (Since 1995) you can rest assured that it's dependable.
Zoom Vs. Webex Comparison
Pricing
We can all agree that pricing is one of the key factors we use to determine what's best for us. After all, you can't use what you can't afford, right? Most companies will tend to go for cost-effective software and hardware.
In most cases, when most of the features are same, the cost can be a useful tiebreaker. Zoom is more affordable when compared to Webex. However, Webex didn't want to coil their tail. Thus, they responded with an enhanced free plan.
For the paid version, Zoom charges $19.99 per month compared to the $26.95 that Webex charges. Zoom has a free plan for up to 100 participants, which is fairly decent. If you don't have a huge team, then this is a good deal to consider.
Nonetheless, don't worry about the quality of video and sound for the free plan. Also, note that Zoom will offer you a free trial period as a new user.
User-Friendly Design
What's the need of a complicated software? If the least tech-savvy individual in the group can't use the software, then there's practically no need to have it. Ease of use is an integral factor to consider when you're choosing a video conferencing tool.
It's a complete waste of time to use a complex software when a simpler tool can help you arrive at the same goal. Based on what many users claim, Zoom has a better user interface when compared to its counterpart Webex.
You can join an online video conference or meeting on Zoom with a simple click. No matter the device you're using, you'll be able to enjoy the full functionality of Zoom. Webex, on the other hand, wastes a lot of time during the lengthy registration and check in.
Quality
We can't overlook the benefit of good quality video and audio. You don't want to keep on asking, "Are you still there?" during the meeting while straining your eyes with blurry images.
Our independent tests show that Zoom is a better video conferencing tool when it comes down to video quality. If you're looking for high definition videos, then Zoom it is for you. It's very possible that most of the employees skipping video conferencing meetings do so because of low quality video and audio.
We're not trying to throw shade on Webex in terms of video quality, as they still have a decent tool here. However, Zoom just takes the lead.
Meeting Follow-up
For any business or company, follow-up meetings are essential. Participants can view and listen to their previous meetings whenever they need some referencing. While Webex falls short on this feature, Zoom has a unique participant reporting feature. This checks the participants of the meeting.
Capacity
The capacity to accommodate many users is particularly important in video conferencing. You may have a huge team and if they all can't be present during the meeting, then there's a problem.
You need a video conferencing tool that can hold a huge number. Zoom, again, takes an obvious lead here with its 1000 capacity. This is huge compared to a paltry 200 that Webex can accommodate.
Security
The safety and security of your staff is mandatory at all times – even when video conferencing. In fact, security is even more important when the meeting is virtual. One breach and the company's trade secrets are out in the open.
Both Webex and Zoom offer pretty decent security features for their users. This kind of reliability is key in business. Some of the features to enhance security include user authentication and encryption.
Both the two tools equally offer security control for desktop sharing. Their encryption covers transmission, storage, and meetings. Zoom even has a telehealth security feature that's HIPPA compliant. This means that meetings between doctors and their patients remain secure and confidential.
Conference Features
What type of conference features are you looking for as a company? Does the tool you have offer those features? Well, since you're doing a video conference, those nitty gritty conference features are pivotal to the choice you make.
Webex is known for its co-browsing ability. It also allows file transfers during the meeting and the chance to remove any attendees. But Zoom too isn't left behind here. It also offers the same features. But wait, there's more.
Zoom additionally has a specific feature termed as break-out sessions, which isn't present in its counterpart Webex.
Final Thoughts
Based on what many pundits have stated, and the reviews that we have made, Zoom takes the lead as the better video conferencing tool. Even though Webex has been around for longer, it doesn't match the numerous features that you can find in Zoom.
Well, some companies, businesses and even individuals may prefer Webex to Zoom and vice versa. What's important is to check the one that matches what you're looking for in a video conferencing software. The best part is that we, as Vibe Design Group, are always here to lend a listening ear and help you achieve your video conferencing goals.