If you asked anyone 2-3 years ago, it was not easy to predict the situation we are in now. The COVID-19 pandemic brought the entire world to a standstill. From families to businesses, everyone's life changed in a way due to the coronavirus disease.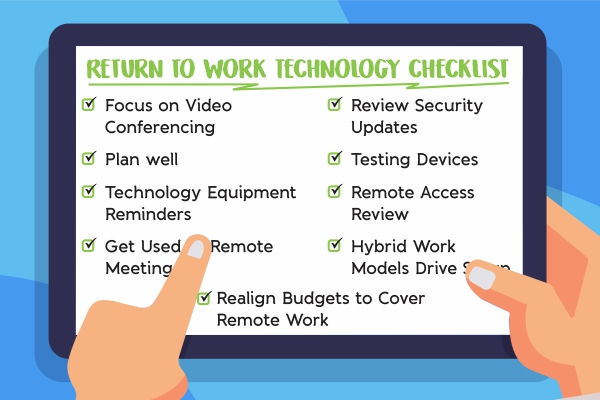 The typical workplace has changed entirely following the measures imposed to control the pandemic. Things that were normal like the fully seated boardroom meetings are no more. Companies have had to either cut down on actual employee attendees or figure out a social distancing measure. Others sent their staff to a work-from-home plan.
While the cases of COVID-19 are gradually going down, more and more people are getting vaccinated. If this is anything to bring about hope, then things should come back to normal slowly. And as this is the case, companies and businesses have to craft a return to work formula.
In this new formula, you have to remember the pivotal role that technology plays. We have created the following technology checklist, which will help you as you plan to return to work soon.
The rise of video conferencing became evident in the initial stages of the COVID-19 pandemic. It helped tons of businesses to stay afloat during what has become one of the most trying times for many people.
Companies depended on video conferencing tools to carry out meetings, interviews, and even business pitches. And as many plan the return to work formula, video conferencing, again, suffices.
Most companies have adopted a hybrid return to work formula. This is where there are both allocations for in-person and virtual attendance. Video conferencing has had a lasting impact on workplaces. And this is something that we shouldn't discount.
Besides, the remote work arrangement has its fair share of advantages. For instance, it reduces the need to build or maintain costly corporate and work sites. And this has particularly been helpful for companies operating on a shoestring budget. As a startup, you can really take advantage of this.
You need to make a robust plan on returning to work. Thus, it would be important that you coordinate with your technology partner or the IT team you're working with. This will ensure a smooth transition from remote work.
When you're making the plan, ensure that you provide advanced notices so that people can prepare adequately. Another thing to consider is a hot desk system for a safer working environment.
Technology Equipment Reminders
Employees that went with any company gadgets at home should bring them back. You can even tell them to return the equipment a weekend to the date of resumption of work. They can save all of the work that they did at home through the network. This will ensure that they can access it once back to the office.
Cybercrimes are still on the rise, even with the many measures taken against them these days. In fact, they have even gone a notch higher during the pandemic due to people's vulnerability.
When employees finally bring back their equipment to the office, you'll need to carry out some standard security measures. The initial thing that you need to do is to install software and security updates.
So many people are indeed used to skipping security update notifications. And when employees go home with the devices, then bring them back, you may not be sure who made the updates and who didn't.
Any security breach, therefore, may not only be harmful to the individual device, but also the whole organization. You need to recheck whether the devices have an updated antivirus, automatic patches, and firewall settings.
In case nobody in your team is well conversant with these security procedures, then it would help if you hired a professional. Find a focused business IT consulting company to help you out.
How easy is it for people to access the company remotely? Some of the main things that you need to consider here include mobile device data plans, access policy alterations, dedicated citric sources, and the status of the dedicated bandwidth.
You need to test the devices after receiving them from the employees. This will help ensure that everything is working fine. Some of the aspects of the computer that you need to evaluate include the critical system access and the internet.
Get Used to Remote Meetings
Due to the need to implement social distancing guidelines, it may be necessary for everyone to get used to remote meetings. Rather than the typical board room meetings where people sit next to each other over several mugs of tea or coffee, remote meetings have everyone scattered.
At least 98% of meetings will have one remote attendee, according to a recent study done by Cisco. The collaboration tools and equipment that will be in use varies from one organization to the other.
We at vibe design provide the latest tools that your business needs to enhance remote access and meetings. As a company or business, you'll need to understand some key metrics such as workspaces, technology, and how people want to interact. What we can learn is that video is here to stay. And you'll have to check how to fit it in your return to work formula.
Hybrid Work Models Drive Setup
The COVID-19 pandemic has helped companies to learn more about the desired workplace routines for their staff. In the not too far away future, hybrid models will be very popular. Due to this gradual shift from the norm, businesses will need to cultivate new cultures and collaborative tools for those not in the office.
It is in this light that we still point back to the need of having effective video conferencing setups. And Vibe design group is here to lend you a hand. You'll need the right video conferencing equipment and an appropriate bandwidth. The aim of doing this is to connect to all of the remote workers effectively and easily.
Realign Budgets to Cover Remote Work
You'll need to get more video room solutions. For instance, some of your employees will begin to ask for headsets and webcams for working remotely. In a temporary lockdown like the ones that we have witnessed in the recent past, people can work with whatever is available. However, when it comes to a long term working arrangement, they'll need specific equipment needed for effective communication and collaboration.
Some of the equipment that they'll need include laptops and specifically newer models. Older laptops may not perform quite well in video conferences. Investment in technology is not optional but mandatory if you aim at improving your return to work arrangement.
Video is the right tool for today's work environment. Its use will only increase in the days to come.
Final Thoughts
Now that's your return to work technology checklist. It is evident that in this return to work formula, video conferencing takes centre stage. And if you're wise enough, now is the time to make an investment on video conferencing tools. Vibe design group can help you out here. With experience in this field, we will ensure that you get nothing short of quality service.