For over 20 years in a row, Cisco Webex has been a crucial part of the business world when it comes down to videoconferencing applications. Nonetheless, some businesses don't find this platform appropriate for their videoconferencing needs. Hence, the need for its alternatives.
The fact that Webex is a potent platform goes a long way to show how it can handle the most complex videoconferencing. Even the pricing shows this notion clearly. However, you need to remember that sometimes too much of a great thing isn't what startups and SMEs are looking for.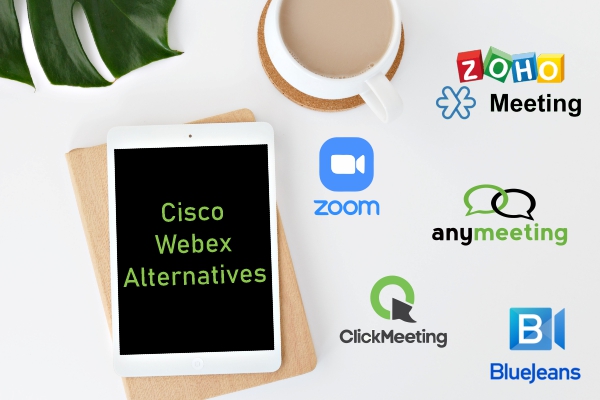 Budget affects most of the decision making in practically any business. And in this case, SMEs and startups want a cheaper alternative that doesn't strain them as much. At VIBE Design Group, we have everything you need to understand more about video. But first, here are some of the best alternatives to Cisco Webex:
Zoom
This platform obviously had to come out first. Zoom is an award-winning application that's great for video conferencing, webinars, and telecommuting.
The best part about this platform is the ease of use. It provides effective value and quality beginning from its free entry point. You can easily use the one-on-one video meeting provision or the larger conference one of up to 100 participants.
Using Zoom is as simple as creating a free account. You can either use their website, desktop app or mobile apps to access the videoconferencing platform. The other advantage Zoom has over other apps is the ability to integrate with productivity apps such as Slack, Zendesk, and Google Calendar.
As your conferencing needs grow, you can upgrade your experience on Zoom. Some of the features that you're likely to enjoy on the paid pro level include:
Up to 1 GB of cloud recording.
Meeting durations of up to 24 hours.
REST API.
Customized meeting IDs.
Several Add-ons.
The business and enterprise provisions are great for organizations that have a huge employee base.
AnyMeeting
This is a platform from Intermedia that splits between conferences and webinars. AnyMeeting helps you to boost productivity in your business or organization. It helps to improve communications and collaborations between persons within an enterprise.
You can easily have collaborative meetings and presentations with both prospects and clients about your business. They first give you a 30-day free trial, then you can start paying $12.99 per month. They have different levels, which include $48-$298 per host per month. This provision can host about fifty to a thousand users.
Zoho Meeting
With a simple web browser, you and your associates can conduct meetings effectively. You don't even need to download any software or app. It's best for companies that have several teams distributed all over. This platform ensures that they all collaborate in real-time. Some of the best features of this platform include:
Meeting control transferring
Website embedding
Integrated audio conferencing
The integrated audio conferencing, to be more precise allows for software product demonstrations and desktop sharing with your colleagues during meetings. You can also ensure that your clients or customers have a control during product presentations.
If you wish to, you can embed Zoho Meeting to your website and rebrand it for use with your company's logo. This ensures that you look more professional. It's particularly great for established companies that want to use their custom colors and look more professional and serious in front of their clients.
The first 14 days on Zoho Meeting are free as you get to take the platform on a test drive. Nonetheless, if you're just 5 or less, you can always use Zoho Meeting free of any charges. But if you're a significantly huge number, expect costs to range between $10 and $39 for every host.
ClickMeeting
This platform has a heavy focus on webinars, and has an integration with live video services such as YouTube Live and Facebook Live. You can also make payments easily via the PayPal platform. Some of its most outstanding features include the following:
Webinar analytics
Meeting spaces and custom invitations
Polling features
Their on-demand webinars are a great way for businesses to showcase their business expertise and products. The difference in pricing formulae for ClickMeeting is perhaps the reason why many consider it as compared to others.
ClickMeeting has a pricing formulae that's more of a single monthly fee rather than a per-host basis. After you complete your free trial, you can start with the $30-$69 package for about 25 to 100 attendees. If you're about 50 to 500 attendees, then the next package of $45-$179.
The last package for enterprises of about 500 to 5,000 attendees starts from about $209 per month. If you decide to pay yearly, you get a 20% discount as compared to paying monthly.
BlueJeans
BlueJeans is now part of Verizon. It's a collaborative meeting tool that you can take advantage of when you have videoconferences and meetings with your staff. BlueJeans is appropriate for modern day businesses. It utilizes Dolby Voice and HD video to ensure that you have a crystal clear meeting during the videoconference.
The other advancement that BlueJeans takes advantage of is artificial intelligence. It utilizes this integration to improve the flow of meetings for its users. You can integrate different messaging, scheduling, and productivity tools your business is using into the BlueJeans software.
Some of the tools that you can easily integrate include Workplace by Facebook, Office 365, Microsoft Teams, Google Calendar, Slack, and Trello, among others. With BlueJeans, you can ensure that your online meetings are very interactive, seamless and intelligent.
After you complete your 30-day trial period with this platform, there are three tiers that you can choose from. The first two tiers are specifically great for SMEs with about 75 to 100 participants.
Final Thoughts
We now hope that you have a clue on what you can use instead of Cisco Webex whenever you want to use video conferencing tools. At VIBE Design Group, we will ensure that all of your videoconferencing needs are met. Book us today!