Hosting high quality virtual meetings is important now more than ever. Many have adjusted to the work from home formula. And if this is anything to go by, we will see many companies and businesses permanently shifting to this work mode.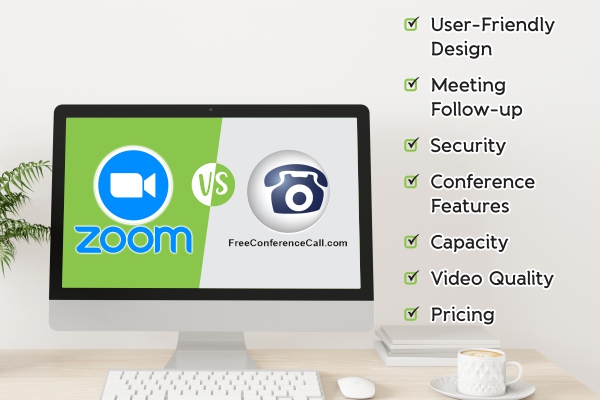 As a company or business, you need to invest in high quality video conferencing equipment and software. Meanwhile, you can check out the latest BYOD video conferencing trends on our website.
Today, there are several potent communication tools that you can use in video calls. Your workforce can organize meetings from any place in the world and collaborate in real time. Two of the most common video conferencing software in the market include Zoom and FreeConferenceCall.com.
These two tools can help bolster your global communications and connections. Nonetheless, it's important for you to know the most appropriate software of the two. This is to enable you pick the most prime option for your webinars and online meetings.
Zoom
Zoom is a well-known video conferencing software with some of the top features in the market. Many companies and people in general love it due to the simplicity and availability of different features/customizations.
They have consistent and potent services, such as online meetings, zoom rooms, video webinar and group messaging. Zoom is appropriate for any type of business. And the best part is that they have a very affordable pricing for an incredible communication experience. In fact, it even starts from free.
Zoom offers maximum reliability and dependable services any day. As a company or business, there are established packages that can suit your operations.
FreeConferenceCall.Com
Even from the name, you can already guess that this software is free for use. They have a special pay-what-you-can strategy. This allows businesses, even SMEs to access reliable video conferencing tools without breaking the bank.
FreeConferenceCall.com has been around for about 20 years now. And throughout these years, they have continued to provide affordable options for businesses to communicate and collaborate.
Zoom Vs. FreeConferenceCall.Com
Now that you have seen the description of both videoconferencing tools, let's compare the two. In this comparison, there are different factors we will use to compare the two robust tools.
User-friendly Design
The user interface is important when it comes to videoconferencing tools. Complicated tools only but cause strain to users and end up wasting people's time. Thus, the simpler the user interface, the better the software. Both Zoom and FreeConferenceCall.com have very simple and clear user interfaces.
Meeting Follow-up
Meeting follow-ups are very important in any business. People need to see what took place in the previous meeting. Thus, they should access the previous meeting's recordings whenever needed.
Zoom enables you to check all of the participants that were in a meeting. On the other hand, FreeConferenceCall.com also offers call recording and call summaries for those who can't make it to the meeting.
Security
Ask any company about security matters and they will tell you that it's one of the most critical factors. A lot can go wrong when there's a security breach in a company. Especially when dealing with matters online, you cannot afford to compromise on security.
Zoom leads when it comes down to heightened security features. They have a user authentication feature that ensures the person attending the meeting is not an imposter. They equally employ encryption to boost the level of security.
To add to the already present security features, zoom also has a HIPPA-compliant security for patient to doctor communications. Zoom for education is another safe tool that students can rely on to learn straight from their homes safely.
Conference Features
Both FreeConferenceCall.com and Zoom have unique and reliable conferencing features. Some of these features include chat, recording, break-out sessions, whiteboard and mobile app options.
Capacity
User capacity is important for large distributed teams. When the company has many staff, you want to be sure that all of them can attend meetings. Therefore, you need to pick a software that can host a huge number of people.
Both FreeConferenceCall.com and Zoom can host up to 1,000 people for every session. This is either through the web or through their intuitive app. However, you need to note that when using Zoom, you need to have an Enterprise-level package so that you can host a meeting with so many people.
Video Quality
What's the point of hosting a meeting and people can neither hear nor see each other? It's practically useless to attend such a meeting because the productivity will be so low. Your staff will not even be willing to contribute anything to the meeting.
Audio and video quality are both vital to the success of videoconferencing. In fact, here are some of the best practices for audio conference calls, which you can start using today. We can't overemphasize enough on the importance of video too.
In the video quality test, Zoom takes the lead with its super high definition video quality. Your company or business deserves to use a tool that offers uninterrupted audio and video clarity. And this is what you get when you use top notch software like Zoom.
Don't get us wrong here – FreeConferenceCall.com also have great quality when it comes to video and audio. Nonetheless, Zoom has a superior quality when we compare the two. Poor quality videoconferencing can make you frustrated during company meetings. And this is something you must avoid at all costs.
Pricing
Now comes the sensitive part. Many companies and businesses try to save on costs while improving productivity and performance. Thus, they need a tool that's not too expensive to use, but still delivers quality.
When you compare all of the other features and find that the tools are similar, price can be the tie breaker. In this case, it's a close call between Zoom and FreeConferenceCall.com. Thus, the pricing can be the only thing that splits the two almost equals.
Both FreeConferenceCall.com and Zoom have free standard accounts. The maximum amount you expect to pay when using Zoom is $19.99 per month per user when you have a large team. And that's for a business account.
On the flip side, FreeConferenceCall.com offers a pay-what-you-can model that makes it easy for startups and charities to operate without pressing their pockets too much.
Final Thoughts
So, now the ball is in your court. Make your mind up and choose the right videoconferencing tool for your company. We, however, recommend Zoom as the most preferred option. We are always ready to give you a hand where you need help as VIBE Design Group.