Dynamic digital content is ever on the rise. Thus, the business world is continuing to embrace interactive and widespread digital signage. It's important for you to know what it is and how you can use it to your advantage.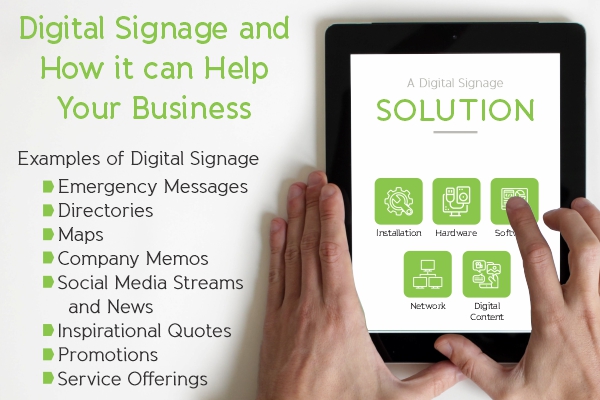 Otherwise referred to as electronic signage, digital signage refers to display technologies. Some of the examples under this category include video or LED walls, LCD monitors, restaurant menus, directions, digital images, and marketing messages.
Want to know more about the basics of digital signage? Visit this page on our website to learn more and understand how you can benefit from digital signage too.
Digital signage is appropriate for different settings. Some of the areas that you can expect to see digital signage in action includes:
Churches
Restaurants
Corporate spaces
Academic buildings
Retail stores
Museums
Sporting arenas
Public spaces
The main purpose of using digital signage is normally for outdoor marketing and advertising.
Examples of Digital Signage
You can use digital signage to pass across internal communication or even share details about a product. You can also use it to provide public information.
When you want to quickly and easily influence customer behavior and their decisions, you need to incorporate digital signage. Some of the ways you can do this include the following:
Emergency Messages
What happens when there's an emergency and you have a huge organization? How will all of the employees know that something isn't right? Without a reliable communication strategy, you can have a difficult task of conveying emergency messages.
With digital signage, you can easily communicate to your staff whatever the emergency is using screens that are all around the organization. Thus, you can effectively distribute vital safety and emergency alerts.
Directories
Directories help people access what they need and equally find their way. Using digital directories, people can easily locate different offices. Let's say in a hospital setting, it can help patients know the physician's office easily.
Maps
It's more affordable to have the digital wayfinding maps, which are more dependable and wide than the conventional maps. The best part is that you can update these digital maps at any time.
You can also make use of interactive tools, which give customized directions based on what the customer inputs.
Company Memos
Paper memos are no longer the in-thing when it comes to communicating to your employees. Emails are a bit better, but are starting to fade a little. And you know what the reason for all this is? Because there's a new sheriff in town by the name digital signage.
You can mount some screens in employee areas such as break rooms and lounges. Then you can send the memos here whenever you want them to reach your staff. This is not only efficient and fast, but it also increases the working morale of your staff.
People will certainly be delighted to check out some cool visual content as compared to lengthy documents. Thus, even when you want to let the employees that you have managed to close a deal, it becomes a lot faster and easier.
Social Media Streams and News
Social media is a buzz in today's world. You can't really afford to be offline when the masses are online. This is where most of your customers interact daily. Having said this, you can easily integrate social media with digital signage.
Synchronizing the screens in the office with any or all of the social media platforms will keep everyone updated. People need to know the current affairs and what's hot or not.
Inspirational Quotes
Well, who said you can't gas up your staff using motivational quotes flowing through the office screens? Take advantage of those famous quotes to share some positive vibes that'll keep everyone motivated throughout the day.
This provision is particularly great for organizations such as health and wellness centers or gyms. They help to uplift the spirits of your visitors and keeps them going.
Promotions
Advertisements and promotions for products is quite necessary in today's competitive space. Digital signage displays are great for marketing, promoting, and advertising your services and products.
You may also have an event that's coming up, which you want people to know about. Again, digital signage can lend a hand here. Some of the tools and ways that you can use here include video testimonials, product demonstrations and static ads.
You're most likely going to see digital signage in retail settings for promotions and advertisements of products.
Service Offerings
As much as paper menus may still be common for showcasing services, that doesn't make them the most effective way to do so. As a business, you can show clients the services you're offering through the use of digital displays.
You can customize the information to rotate between different services and inform your clientele of what's in store. This can also be a great way to keep them engaged as they wait for services or products.
A Digital Signage Solution
We at VIBE Design Group are ready to offer you a digital signage solution whenever you're ready. Here's what you'll need for a start:
The installation. We will carry out a site survey to see how well we can incorporate digital signage into your business. We will always be there to the tail end of the installation.
You need to have the display screens, wiring, mounts, and other items that are necessary for digital signage.
What's an effective hardware set without the right software? You can check out these top digital signage vendors list.
This determines how your digital signage connects to other systems. Are you going to use a LAN connection? Wi-Fi?
Digital content. What are you planning to display on your screens once everything is ready?
Final Thoughts
As we come to the end of this article, we believe that you now have some good information about digital signage. We at VIBE Design Group are always ready to offer you advice and help you get things rolling for your digital signage project. We have all of the prerequisite skills to help you launch this effective marketing, informational, and promotional project.